Whiskey
From Commandos Wiki
Jump to navigation
Jump to search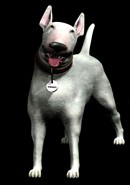 Whiskey, a bull terrier, was found with a wounded ally in The Night of the Wolves in Commandos 2: Men of Courage. The commandos decided to take care of him after his owner died.
Whiskey is ideal for transferring items between commandos, because he can move quickly and enemy soldiers won't attack him. A high-pitched whistle is used to call Whiskey. Whiskey has been trained to run up to soldiers and bark loudly, which distracts them for a small amount of time. The Sapper benefits greatly from Whiskey's ability to sniff out mines quickly.
Whiskey can run around at a fast pace or be carried by the commandos. However, he cannot stray far from the commando who is nearest to him at the time. He can be called from a very far distance by the whistle, unless there are ladders or doors in the way.
| | |
| --- | --- |
| | This page uses content from Wikipedia. The original article was at Commandos (series). The list of authors can be seen in the page history. As with Commandos Wiki, the text of Wikipedia is available under the Creative Commons Attribution-Share Alike 3.0 Unported License. |